Sale!
Atem Car
Car Air Purifier
Atem Car
Car Air Purifier
Special Offer
Free Shipping ! on all air purifier order.
In stock
The powerful solution against in-car pollution.
Engineered in Switzerland and Made in Germany. The Hyper HEPA Plus filter provides the best solution for in-car particle, gas and odour removal by combining two types of media: one that eliminates airborne particles such as Pollen, Soot and down size from PM2.5 to 0.003 microns in size; including Virus and Bacteria and another one that absorbs odours and chemicals such as Formaldehyde (VOC) and Benzene. A light touch on the Atem logo is sufficient to turn on and adjust the flow of clean air. A large air intake and a huge filter surface area means maximum airflow for best air cleaning results along your road trip.
Read Full Product Specifications
Additional Information
Patented HyperHEPA Plus filter
HyperHEPA plus filter technology helps remove a high percentage of tiny particles, such as soot, allergens, PM2.5, baterias and virus and also a chemical of airborne pollutants including TVOC, Formaldehyde, and Bezene.
Atem smartphone app
Alternatively the Atem Car can be controlled with the Atem smartphone app. The interface allows fine-tuning of fan-speed, light and sound. On the top of that, the Atem app provides real-time information about temperature, humidity and filter life, based on actual usage.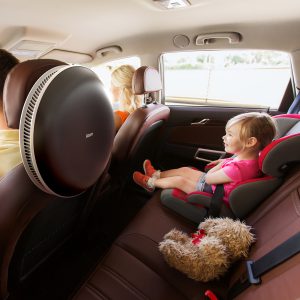 Lock Screen function
Sync your Atem car with the Atem smartphone app allows you to activate a built-in child lock so you don't have to be worry on your trip which lead on your safety and control.
Automatically switch off
The built-in Bluetooth proximity sensor can be set to automatically switch the Atem off when you leave the car and back on when you return to your car.
Clean air up to 20 times per hour
The IQAir Atem is an incredibly powerful, yet quiet and compact car air purifier. It is able to clean the air in your car up to 20 times per hour and capture a wide range of road and in-vehicle air pollutants.
High-capacity, centrifugal design
A centrifugal fan at the center of the system draws in cabin air through a combined particle and gaseous filter that wraps 270 degree around the fan for maximum removal of harmful air pollutants from the air. The Atem Car is designed to deliver clean air to where it matters most – the passenger's breathing zone.
Patented HyperHEPA filter

Hyper HEPA filter is proven to effectively remove particles down to 0.003 micron in size.

Atem smartphone app.

Atem app provides real-time information about temperature, humidity and filter life, based on actual usage.

PureJet Diffuser

PureJet Diffuser that reduces turbulence and directs a gentle breeze of clean air vitually silently to your breathing zone.

Travel Companian.

a unique design, compact size and weight only 2 kgs

Detect PM2.5 CO2

AirVisual Pro detected Air pollution air (PM2.5 and CO2), both indoors and outdoors in real time

3-Day air pollution forecasts.

Keep you informed with air quality and weather data up to 3 days in advance.

Alerts and health recommendations

Smart integration allows you to control smart home devices with action-based rules.

Compact size with a built-in battery

Easy to handle, light weight, compact size with built-in batter which can stay up to hours.

Patented HyperHEPA technology

HyperHEPA filters are the first filters tested and certified to filter down to 0.003 microns with a guaranteed minimum efficiency of over 99.5%.

Filter Virus & ultrafine pollution.

HyperHEPA protect you from microorganisms such as viruses, bacteria, fungal spore, pollen and other allergens

FIlter PM2.5 down to 0.0003 microns

HyHEPA technology is tested and certified to filter ultrafine pollution particles down to 0.0003 microns in size with a guaranteed minimum efficiency of over 99.5%.

Made and Design in Switzerland
Suitable area 90-180 sqm.

พื้นที่ 90 ตรม. ฟอกอากาศอากาศ 2 รอบภาย 1 ในชั่วโมง / พื้นที่ 180 ตรม. ฟอกอากาศอากาศ 1 รอบภายใน 1 ชั่วโมง